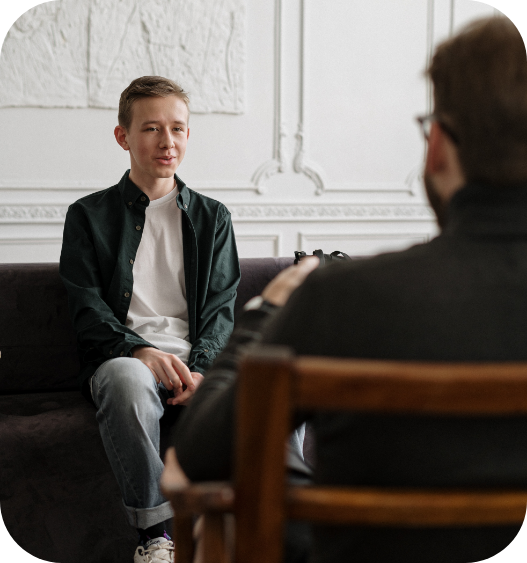 Individual Counseling
In Katy, Texas
Individual Counseling in Katy, Texas is crucial for a happy and healthy community. At Social House Wellness Company, we're dedicated to provide optimal mental health services.

"In any given moment, we have two options: to step forward into growth or to step back into safety"
You may be wondering what the difference is between talk with a trained counselor and talking with a friend. Counselors in Texas must go through a 60 credit hour Master's program in addition to a Bachelor's degree. During this Master's program counselors-in-training complete a practicum and two internships where they train and learn to hone their counseling skills. Upon graduation and passing their licensing exam, counselors then complete a 3000 hour internship (LPC Intern status) underneath the weekly supervision of an LPC-Supervisor that often lasts years. Finally counselors are then able to become fully Licensed Professional Counselors (LPC). During all of this training, counselors are taught and perfect active listening skills and techniques to help clients reflect and dive deeper on what they bring to the counseling session. As there are many foundational theories within counseling that have different ideas on why people behave the way they do and how counselors can best help them, specific treatment and techniques can vary widely. A common thread through all counselors should always be a basis of empathetic, non-judgmental, unbiased listening. Unfortunately our friends and family can't guarantee the same, which is why even counselors are unable to counsel friends and family.
If you are in need of individual counseling in the Katy, Texas area please click the button to review our schedules and select a time that best fits you.
Or just call (832) 284-7354 to schedule an appointment by phone.
Mental Health Counseling Can Make All The Difference!
Your individual happiness is dependent on your mental health and Individual Talk Therapy is a fantastic way to keep your mind in a good place. Every aspect of your life depends on a sharp and healthy brain so if you'd like to schedule counseling in the Texas area please don't hesitate to contact us.
Our team is ready to get you to a better place!
If you're in need of immediate help here are a couple helpful local links for organizations in the Texas area.
Family Violence Prevention Services
Crisis Hotline: (713) 970-7000 and press #1
To learn more about our team go here.